Everyone loves a good wedding, from the sappy overly romantic ones to the dramatic, theatrical ones. And the world of film has offered us so many wonderful weddings. Here are just some of my favourites:
Wedding 2 in Four Weddings and a Funeral (Rowan Atkinson)
"In the name of the father, the son and the holy spigit."
The awkwardness and the willingness of all the people to get the end of the service in one piece - comedy genius.
Love Actually
Instruments pop out from the crowd and Lynden David Hall sings with a choir. A tribute to Jim Henson's funeral when all the puppeteers brought their puppets out. What's not to love?
Three Men and a Little Lady
Ted Danson revealing himself to be the priest by pulling off his face and the little Mary saying "What a crock!".
Shrek
A dragon, a spell, the guys with cards writing "aaaaw" and the best afterparty Kareoke ever.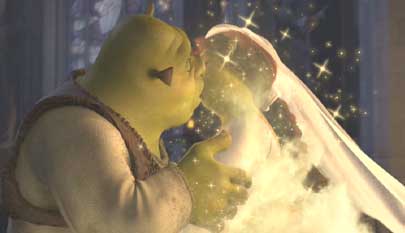 Harry Potter and the Deathly Hallows Part 1
Funny dancing from Luna and dad, the man with 10 collars, a swan like wedding dress and a wand battle with the wedding crashers - the deatheaters. "The Ministry has fallen."
Enjoy, LE xxx